Vladimir Scheffer 1950-2023
Our long-time colleague Vladimir Scheffer passed away on April 14th after complications from a brief illness. More information can be found at https://www.spezzifuneralhome.com/memorials/vladimir-scheffer/5178281/service-details.php. Vladimir Scheffer's mathematical work is best noted for his breakthrough results on the regularity of the notoriously difficult Navier-Stokes equation, where he showed solutions to a modification of this equation have a singular set of relatively small size. This work remains highly influential to this day, with nearly 200 citations. In addition to his work on the Navier-Stokes, Vladimir and our former colleague Jean Taylor prepared a roughly 1,000 page proof by their Ph.D. advisor Fred Almgren, which was posthumously published due to their dedicated efforts. Such a lengthy work was very hard to distribute, and thus Vladimir's selfless efforts here (which included retyping and re-typesetting the entire document!) were crucial to the dissemination of major ideas (which in turn influenced important modern work).
According to Fields medalist Cedric Villani the so-called Scheffer-Shnirelman paradox is the most surprising mathematical paradox, even surpassing the Banach-Tarski "volume doubling" paradox, since the former does not invoke the axiom of choice. Jeremy Gray goes so far as to call it "surely the most astonishing result in all of fluid mechanics". Vladimir was also a very popular undergraduate teacher, often coordinating the many sections of Calculus, and loved by both students and colleagues for his gentle nature. He was also a crucial faculty member in our undergraduate operation, and a constant go-to source of wisdom on many important details of calculus instruction at Rutgers.
Patricia Diane Barr, JANUARY 7, 1935 – DECEMBER 11, 2022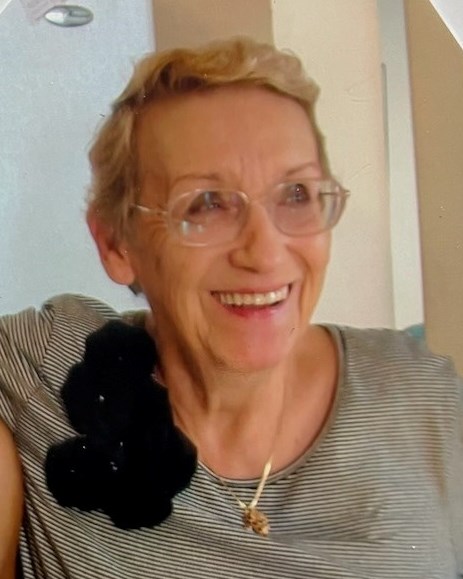 "With heavy hearts we announce Patricia Diane Barr (née Cotter) of Whiting, NJ passed away Sunday, December 11, 2022 at the age of 87. Born January 7, 1935 in Pittsburgh, PA. Pat's adventures lead her to live in Chicago, Virginia and finally settling in the Jersey shore area in the early 60's. She retired from the Mathematics Department of Rutgers University in New Brunswick, NJ in 2011". Pat was a cheerful, very friendly, and hysterically funny source of energy for our department. From https://www.dignitymemorial.com/obituaries/whiting-nj/patricia-barr-11054740
Jerrold Bates Tunnell
Our longtime colleague Jerry Tunnell died in a bicycle accident on April 1, 2022. The following tribute comes from Steve Miller:
Jerry Tunnell was an active member of the Rutgers Number Theory group for nearly 40 years. He advised 7 PhD students and shaped the careers of many more in his brilliant courses on algebraic number theory and algebraic geometry. Jerry's deep understanding of the latter led to particularly insightful courses on algebraic geometry, with a familiarity and unique approach which is sadly now lost to humanity.
Many of Jerry's research works will still be studied by mathematicians a century after they were written. His most famous accomplishment, the Langlands-Tunnell Theorem, is one of the foundations on which the proof of Fermat's Last Theorem was built. Perhaps even more striking in many respects was his work on the congruent number problem, a paper dense with repeated brilliant insights into the relation between an ancient problem about triangles and several cutting-edge aspects about L-functions, modular forms, and elliptic curves. Jerry's work on supercuspidal representations was also pioneering. Each of these deserves much more space and description than can be given here.
Jerry's depth of understanding and knowledge served as an amazing resource for our number theory community. His friendliness and approachability will surely be missed.
Earl Jay Taft (1931-2022)
Earl Taft died on Aug. 9, 2021 in Florida.
Earl was a member of the mathematics department from 1959 until his retirement in 2018, at the age of 87. See obituary and wikipedia. He was founding editor-in-chief of the notable journal Communications in Algebra, see here.
Maria (Sao) Carvalho

Maria Conceicao (Sao) Carvalho, a longterm scientific visitor to our department, passed away on June 28, 2021 after a long struggle with cancer. Until the last few months, she had maintained the upper hand in this struggle for many years, continuing to live her life fully, including continuing her research program and delivering talks at conferences.
She is survived by her husband, Eric Carlen, and a number of close cousins in Portugal.
Wolmer Vasconcelos (1937-2021)

Wolmer Vasconcelos died on June 14, 2021 in Florida. Wolmer was a member of the mathematics department from 1967 until his retirement in 2010. He was a pillar of our algebra group, and a much-valued and beloved member of the department.
He is survived by his wife Aurea.
Here is an announcement from the commalg.org website
Richard Wheeden (1940-2020)
Dr. Richard (Dick) Lee Wheeden, 79, died on April 9, 2020 in a tragic accident. He was struck by a tree that felled by high winds in St. Michaels, Maryland, while out for his daily walk.
Born on November 29, 1940 in Baltimore, Maryland to Lee and Ruth Wheeden, Dick graduated high school from Baltimore Polytechnic Institute in three years. He earned his B.S. in Mathematics from Johns Hopkins University and both his master's degree and Ph.D. from the University of Chicago. The Institute for Advanced Study in Princeton, NJ offered Dr. Wheeden a year with globally renowned mathematicians. In 1967, he accepted a tenure track position at Rutgers University. He spent the next 50 years teaching and conducting research there, retiring in 2016 to the Eastern Shore of Maryland, with the title of Distinguished Professor Emeritus.
Dick met his life-long love, Sharon Lee McGlasson, when they were only 14 years old. They married in 1962 and were the parents of two children, Mike and Abbie and the proud grandparents of five grandchildren.
He is survived by Sharon, his son Michael (Kristen) of Bethesda, MD, and daughter Abbie (Bill) McCauley of Tallmadge, OH. He was a loving grandfather to Cameron, Zachary, and Brady Wheeden and to Amelia and Benjamin McCauley. He is also survived by his sister Carolyn (Ernie) Ilgenfritz of Easton, MD and many extended family and close friends.
While Sharon was his great love, math was the other. During his brief retirement, Dick continued his research in mathematics, resulting in many published papers. He was active in the Home Owners Association and volunteered on several projects to maintain the quality and beauty of the historic Perry Cabin homes. He was a member of the Wye Fellows of the Aspen Institute, where he enjoyed many inspirational talks and concerts. Dick loved his family, being outdoors, eating crabs, and doing math.
He is remembered for his intellect, humility, and his kind, gentle soul. He was loved and will be deeply missed. A celebration of life will be held at a later date, when the world is a safer place and we can gather together. In lieu of flowers, the family has asked for donations in his honor to The American Porphyria Foundation (www.porphyriafoundation.org.)
(Here is a tribute to Dick Wheeden by Sagun Chanillo, from AMS Notices February 2022 .)
William Irvine (1942-2019)
William (Bill) Irvine, who was an Instructor for the Department of Mathematics from 1995 to 2017, passed away on Thursday December 5, 2019. He was 77 years old.
Besides his many years of teaching, Bill served the department in a number of ways over the years, including as Assistant to the Vice Chair for Undergraduate affairs, and as coordinator of the Mathematics Summer Session. He is remembered as a cheerful colleague who would meet others with a hearty greeting and ready smile.
Bill came to Rutgers as an Instructor in 1995, after a long and successful career in the United States Air Force. He served in Turkey and the Middle East and throughout the United States before retiring as a Lieutenant Colonel. He was a master woodworker and published a book titled Random Musings.
Bill was predeceased by his wife Debra Irvine in 2010. He is survived by wife Emy Irvine of Somerset and his children Scott Irvine, Lori Beasley, Jennifer Warren, and David Irvine along with his many grandchildren.
Jose Barros-Neto (1927-2020)
José Barros-Neto, Professor Emeritus of Mathematics, died peacefully at his home in Novi, Michigan on January 14, 2020. He was a consummate mathematician for 92 years and enjoyed a fulfilling career at Rutgers for 31 years until his retirement on January 1, 2000. Math was in his bones, and not one of his four children or four grandchildren could turn 7, 11, 13, 17, and so on without being reminded that they were celebrating a "prime" birthday.
He received his Ph.D. in 1960 from Universidade de São Paulo, Brazil, where he met his beloved wife of 70 years, Iva Borsari Barros. In his early career, he studied at the Sorbonne, and Yale University. He was named a John Simon Guggenheim Memorial Foundation Fellow in 1961 and 1962 in Field of Mathematics, Latin America & Caribbean. Research, teaching, and three growing girls occupied his time at Brandeis University, the University of Montreal, Rochester Institute of Technology and back to the University of São Paulo. His long career at Rutgers began in 1968, when the family settled in Princeton, NJ, and a son soon followed. He was honored to take sabbaticals at The Institute for Advanced Studies, in Fall 1971 and 1989-1990. He was dedicated to his research interests in functional analysis, and partial differential equations. He valued his many friends and collaborators in the field of mathematics.
José's family was truly a Rutgers family. His wife, Iva, earned her Masters Degree in French Literature at Rutgers University. All four of his children, and one son-in-law, graduated from a Rutgers University affiliated college. During his tenure at Rutgers, José authored four books, College Algebra and Trigonometry with Applications, An Introduction to the Theory of Distributions (Pure and Applied Mathematics), Hypoelliptic Boundary-Value Problems (Lecture Notes in Pure and Applied Mathematics) and College Algebra with Applications. His textbooks became quite popular with students. José was particularly proud to hear from a student in China who had obtained a copy of An Introduction to the Theory of Distributions and was finally able to understand the concept. That student became a mathematician and was inspired to translate the book into Chinese.
José was an avid soccer fan, in particular, Brazilian soccer. He enjoyed traveling in the United States and abroad. Reading, painting, gardening, and classical music were among his diverse interests. José, and his family, enjoyed spending relaxing summers in Cape Cod, and later, Martha's Vineyard. This was where he would reconnect with collegial friends. He loved the quiet beauty of Martha's Vineyard and featured his favorite spots in several figures in his books.
He was preceded in death by his wife, Iva, who passed away peacefully on November 30, 2019 at their home in Michigan. He is survived by his four children, Carmen, Claudia, Marilia and André, their spouses, Jack, Tom, Michael and Marlena, and four wonderful grandchildren, Colin, Kevin, Alexandria and James. José is also survived by his loving family in Brazil, his brother and two sisters, and their families.
Hyman Zimmerberg (1921-2019)
Hyman J Zimmerberg died peacefully at home in the house he built 64 years ago in Highland Park, NJ. He lived his 98 years with vigor, intellectual curiosity and humor. Born at home on Hester Street in New York City's Lower East Side on September 7, 1921, Hyman moved as a child to Brooklyn where he played stickball in the street while listening to baseball games on neighborhood radios perched on the tenement window sills.
Emeritus Professor of Mathematics at Rutgers University, Hyman was best known on campus for his active support for academic freedom. When he was president of the Rutgers chapter of the American Association of University Professors, he led the defense of antiwar speaker and Rutgers historian Eugene Genovese in the 1960s and helped block Genovese's firing. He later played a role in the recognition of the AAUP as the faculty bargaining unit. He had learned the value of unions, along with the importance of education and family, from his parents, Morris and Manya Zimmerberg, immigrants from Poland.
Hyman attended Brooklyn College where he met his first wife, Helen Yarmush Zimmerberg. Hyman was the President of the Math Club; their three-man team of undergraduates won the Putnam Competition, the most prestigious university-level mathematics competition in the world. The Math Club also proclaimed their support for the Abraham Lincoln Brigade—American volunteers, many of them college-age, who took up arms for the Spanish Republic against the fascist General Franco.
Receiving his BA in 1941, Hyman moved west to attend graduate school at the University of Chicago. After their marriage in 1943, Helen joined him in Chicago and began her graduate studies in biochemistry. Their early marriage had a secret – Helen was also working in a lab under the football stadium as part of the Manhattan Project, investigating the biological dangers of radiation exposure. Hyman contributed to the war effort by teaching trigonometry to soldiers learning meteorology to guide the Air Corps bombers over Europe.
After completing his PhD in 1945, Hyman began his first academic position at the University of North Carolina at Chapel Hill. Helen entered graduate school at Duke University. Uncomfortable with the Jim Crow segregation encountered there, they were happy to move back north in 1946 when Hyman accepted a position in the Math Department at Rutgers College. They began their family with the birth of daughter Sharon in 1947. Betty, Joshua, and Morris would follow. The most profound sorrow that Hyman and Helen faced was the loss of their daughter, Sharon, from cancer at the age of 21.
Professor Zimmerberg taught at Rutgers until his retirement in 1991. His published scholarship was on Algebraic Boundary Value problems in the field of Analysis. He was particularly proud of his development and directorship of a National Science Foundation Undergraduate Research Participation Program in Math from 1962-1977.
Hyman loved to travel. Each summer the family would head north or west for a camping trip, exploring many national parks. Hyman was always physically active, bicycling, gardening, and pitching for the Math Department softball team. After his daughter's death, Hyman started long distance running. He ran the New York City marathon five times, and the Marine Corps Marathon in Washington DC thrice. He also ran in many 10K races, especially loving the Falmouth Road Race while visiting son Joshua at the Woods Hole Marine Biology Labs. Hyman ran well into his 80's, winning many trophies for his age group!
Hyman looked back fondly on a sabbatical semester spent in 1972 at the Hebrew University in Jerusalem, Israel, with Helen and their youngest son, Morris. After their retirement, he and Helen traveled to Europe, Israel and Peru. They spent several months a year in Sante Fe, New Mexico, where Morris now lives, and on Cape Cod with the families of Betty and Joshua. They were active and loyal members of the Highland Park Conservative Temple and Center. Sadly, his love and intellectual companion of 58 years, Helen, died in 2001.
Hyman married his second wife, Francine Rosen Kritchek, in 2006. He knew her from his days at Brooklyn College, where she had been a close friend of Helen's. Francine had a long and happy marriage to her first husband, Irwin Kritchek, raising two daughters, Suzi and Robin, on Long Island. Hyman and Francine reconnected after Irwin's death, and enjoyed their "elder" romance and companionship until her death in 2018.
Hyman is survived by his two younger sisters, Sylvia Cohen and Eleanor Halpern. He is also survived by his three children and their partners, Betty Zimmerberg and Dale Fink, Joshua Zimmerberg and Teresa Jones, and Morris Zimmerberg and Iku Fujimatsu. Hyman also leaves grandchildren, Julia and Patrick Aziz, Daniel and Sarah Glick, Jessica Zimmerberg-Helms and Seth Applebaum, Jonah Zimmerberg Helms, Rin Fujimatsu, Aaron Zimmerberg, Joseph Zimmerberg, Nathan Zimmerberg, and Jacob Fink. In addition are six great-grandchildren, Kaleb Aziz, Jeremiah Aziz, Marisa Aziz, Bella Malvesti, Arthur Glick, and Wren Glick. Hyman is also survived by his step-children Robin and Kenny Onufrock and Suzi and Charles Schultz. Hyman will also be missed by his nephew Mark and nieces Janet, Susan, Marcia and Laurie, and their partners and children. The whole family can recite Uncle Hy's mathematical jokes and riddles.
Cornelia Mary Kinsella (1961-2019)
Cornelia Kinsella, a Business Specialist for the Department of Mathematics, passed away on Thursday April 4, 2019. As our departmental administrator for contracts and grants, Cornelia played a crucial role in helping faculty to apply for and administer the external grant funding that supports the many research and education projects carried out by the department. Cornelia was valued for her professionalism, her dedication, and her positive presence, which she maintained in spite of the serious health challenges that she faced. She was an inspiration to all who worked with her, and will be sadly and fondly missed.
Jane Smiley Cronin Scanlon (1923-2018)
Jane Smiley Cronin Scanlon, 95, passed away Tuesday, June 19, 2018 at her home in Piscataway. Born in Manhattan, NY to John and Janet Cronin, she attended high school in Highland Park, Michigan where she discovered a life-long passion for physics and mathematics. She graduated from Wayne State University with a B.S in mathematics, and ultimately received a PhD from the University of Michigan in mathematics in 1949. Jane accepted a post-doctoral positions at both Harvard and Princeton and taught at Wheaton College in Massachusetts for several years. She spent many years teaching at Brooklyn Polytechnic Institute before accepting a position at Rutgers College as a full professor of mathematics in 1970.
Jane had a great intellect. Her research interests in mathematics were broad, spanning both pure and applied mathematics. She is the author of numerous research papers and books, including a widely used textbook in Advanced Calculus. Jane's research was considered ground-breaking and original. She mentored and sponsored many students in mathematics who were pursuing their graduate degrees, and was a very popular teacher and lecturer. Jane attended conferences in mathematics all over the world, including the Soviet Union, as well as Eastern and Western Europe. Her professional career spanned more than forty years, and she retired as professor emerita in mathematics from Rutgers University in 1991. She continued her research in mathematics, working with other scientists in physics and medicine, until the last two years of her life.
In addition to her professional interests, she enjoyed walking, fencing, literature, poetry, history, genealogy and antique furniture. Her literary interests were broad and included Shakespeare, Tolstoy, C.P. Snow, Agatha Christie, Maeve Binchy and Mary Higgins Clark. Her favorite places were Boston, London, Budapest, as well as numerous sites in Greece.
She is survived by her four children, Justin of Flint MI, Mary Hathaway and husband Bill of Simsbury CT (daughters Allison and Sarah), Anne Yamakaitis and husband Mark of Clark NJ (daughter Bernadette and sons Mark and Jude) and Edmund and wife Michelle of Warren NJ (daughter Erin and son Gregory.)
Charles Sims (1937-2017)
Charles Coffin Sims, 80, of St. Petersburg, FL, passed away October 23, 2017 at The Marion and Bernard L. Samson Nursing Center. Born and raised in Elkhart, Indiana, he attended high school in Elkhart and received his Bachelors of Science at the University of Michigan and his Ph.D. in mathematics from Harvard University. After Harvard, he taught briefly at MIT before moving to New Jersey where he spent most of his adult life, living first in Princeton and then in Allenhurst. He was a professor of mathematics at Rutgers University for 42 years and a pioneer in the field of computational group theory, influencing the careers of group theorists around the world who followed him. In addition to his many contributions to research in his field of study, he was deeply devoted to mathematics education and spent much of his time at Rutgers ensuring quality instruction for generations of students. After retirement, Charles continued to help students learn mathematics by tutoring local children in St. Petersburg. He was a devoted husband, brother, and father and active in church and church choirs throughout his life. In fact he met his wife Annette of 47 years singing in choir at Harvard-Epworth United Methodist Church in Cambridge, MA. In his later years Charles and Annette made St. Petersburg their home. Together they enjoyed their community, four dogs and cat, and spending time on Tampa Bay on their boat. Charles also collaborated with his sister Mary Jean on preserving family archives. He was a modest, kind, much-loved man who left lasting impressions on everyone he met or who benefited from his academic work.
Michael Ernest O'Nan (1943-2017)
Mike was born in Fort Knox, Kentucky and was educated as an undergraduate at Stanford University and as a graduate student at Princeton University. While at Princeton he made contact with Danny Gorenstein, who became his thesis adviser.

His thesis (1969) reflected what would be a long-time interest: finite doubly-transitive permutation groups, explored with block designs and related combinatorial structures. The thesis was a characterization, among doubly transitive groups, of the three-dimensional unitary groups over finite fields. After a year or two at the University of Chicago, Mike came to Rutgers, shortly after Gorenstein did. He quickly reached the rank of full professor. Through the 1970's he was the leading figure in the world in the study of finite doubly transitive groups, bringing original and effective ideas to the effort to classify them. In a remarkable series of papers he completed the classification except for a single case--doubly transitive groups in which the stabilizer of a point is a simple group, or "almost" simple. Shortly after that the tidal wave of the classification of finite simple groups washed over the whole area and as a result, in my opinion, Mike's work has not received the long-term recognition that it deserves.

He will be remembered for his 1975 discovery of one of the sporadic finite simple groups, called the O'Nan group or the O'Nan-Sims simple group, since it was Charlie Sims, partly in collaboration with Sims's student Steve Andrilli, who proved the existence and uniqueness of the group, after Mike had predicted many properties of the group. Following the classification of simple groups, he independently proved what has come to be known as the O'Nan-Scott Theorem or Aschbacher-O'Nan-Scott Theorem. It is a taxonomy of maximal subgroups of the finite alternating and symmetric groups, and a related taxonomy of all finite primitive permutation groups. It has been widely used in finite group theory since 1980, being a tool that fits naturally with the classification of finite simple groups.

Mike was quick-witted, and widely admired and liked in the world of finite group theory. He was a generous teacher and a loyal friend. He had one Ph.D. student, Dick Stafford, of the National Security Agency. As one of his colleagues has written, his good cheer and twinkling smile radiated happiness at being in the game of life.
Myles Tierney (1937-2017)
From ncatlab
Myles Tierney was a Rutgers faculty member for thirty-four years, coming to Rutgers as an Associate Professor in 1968 following positions at Rice University (1965-6) and at the ETH-Forschungsinstitut für Mathematik, Zürich (1966-68). He received his B.A. from Brown University in 1959 and his Ph.D. from Columbia in 1965.
Myles began his career as an algebraic topologist, moved toward category theory and was responsible (together with F.W. Lawvere) for the introduction of a new field within category theory: elementary topoi.
Myles Tierney died on October 6, 2017 having turned 80 in September.
William L. Hoyt (1928-2017)
From obituary
William Lind Hoyt, age 89, passed away on Thursday, September 14, 2017, in Madison, WI. He was born Sep. 8, 1928, in Nephi, Utah, the son of the late William Lorraine Hoyt and Vivian (Petersen) Hoyt.
Bill was a graduate of the University of Utah, and earned his Ph.D. in Mathematics from the University of Chicago in 1958. He taught for six years at Brandeis University in Waltham, MA, and spent the rest of his career on the math faculty at Rutgers University in New Brunswick, NJ. His research interests included algebraic geometry, elliptic surfaces, and modular forms.
Felix E. Browder (1927-2016)
Felix E. Browder, a renowned mathematics professor who completed his doctorate by age 20 and joined Rutgers as its first vice president for research in 1986, passed away on December 10, 2016, at his Princeton home. He was 89.He was currently a university professor in the School of Arts and Sciences, Rutgers University–New Brunswick. Browder received the 1999 National Medal of Science, the nation's highest science and engineering honor. But he had been tainted by the association with his father, Earl Browder, a longtime leader of the U.S. Communist Party, according to The Washington Post.During a 1953 hearing of the U.S. House Committee on Un-American Activities, the Post writes that a professor at MIT, where Felix Browder earned his undergraduate degree at 18, testified that the younger Browder had never joined the party and "was the best student we had ever had in mathematics in MIT in the 90 years of existence of the institution."Browder was cited by the National Science Foundation, which administers the National Medal of Science, for pioneering mathematical work in the creation of nonlinear functional analysis and its applications to partial differential equations. He was also recognized for serving as a leader in the scientific community and expanding the range of interaction of mathematics with other disciplines. Browder had served as president of the 33,000-member American Mathematical Society.
Obituary from the Washington Post
Memorial to Felix Browder, compiled and edited by Haim Brezis, including numerous personal reminiscences
Abbas Bahri (1955-2016)
Our colleague Abbas Bahri passed away on January 10, 2016 after four years of heroic fight against two forms of cancer.
András Hajnal (1931-2016)
We are sad to report that András Hajnal,
who served as Director of DIMACS from 1994 to 1995, passed away on July 30 at the age of 85. Hajnal came to DIMACS after a 40-year career at Eötvös Loránd University in Budapest, and remained at Rutgers as a professor in the Department of Mathematics until his retirement in 2004 when he returned to Hungary.
He was elected in 1982 as member of the Hungarian Academy of Sciences and directed its Mathematical Institute from 1982 to 1992. He served as general secretary of the János Bolyai Mathematical Society from 1980 to 1990, and president of the society from 1990 to 1994. His contributions to mathematics were recognized by prizes that include the Academy Prize in 1967, Tibor Szele medal from the János Bolyai Mathematical Society in 1980, and Middle Cross Merit Order Medal from the President of the Republic of Hungary in 2013.
Martin David Kruskal (1925-2006)
September 28, 1925 - December 26, 2006
Martin David Kruskal, one of the world's pre-eminent applied mathematicians and mathematical physicists, died on December 26, 2006, at the age of 81. He was the recipient of many honors during his lifetime, including the National Medal of Science awarded by President Clinton in 1993, the 2006 Steele Prize for Seminal Contribution to Research and the Gibbs Lectureship, both from the American Mathematical Society, the Dannie Heineman Prize from the American Physical Society, and the Maxwell Prize from the International Congress on Industrial and Applied Mathematics. He was awarded memberships in the National Academy of Sciences, the American Academy of Arts and Sciences, and foreign memberships in the Royal Society of London, the Royal Society of Edinburgh, and the Russian Academy of Natural Sciences.
Professor Kruskal worked at Princeton University from 1951-1989, where he initially joined the Princeton Plasma Physics Laboratory, and was a member of both the Astrophysics and Mathematics Departments. At Princeton, he was also the founding director of the Program in Applied and Computational Mathematics. In 1989, upon becoming emeritus at Princeton, he joined the Mathematics Department at Rutgers University, where he held the David Hilbert Chair of Mathematics.
After receiving his undergraduate degree from the University of Chicago, Professor Kruskal received his Ph.D. under Richard Courant at New York University in 1952. He started his career at the Princeton Plasma Physics Laboratory with Project Matterhorn, then a classified project, to produce controlled thermonuclear fusion. In the 1950's, he made a number of seminal contributions including Kruskal-Shafranov Instability, Bernstein-Greene-Kruskal (BGK) Modes, and MHD Energy Principle, which laid the theoretical foundations of controlled nuclear fusion and the then undeveloped field of plasma physics. In 1960, he developed the well-known Kruskal Coordinates (also called Kruskal-Szekeres Coordinates), used in the theory of relativity to explain black holes.
He is most famous for his role in starting the "soliton revolution," considered one of the great mathematical advances of the last half of the twentieth century. In an astonishing discovery, he and Norman Zabusky found nonlinear waves that behave in many ways like linear waves, which they termed "solitons." Solitons are now known to be ubiquitous in nature, from physics to chemistry to biology. Their unique properties make them useful for communications, such as in undersea, fiber optic cables. They have even been seriously suggested as the basis for computing (soliton computers).
Professor Kruskal and his colleagues also devised an ingenious method to solve the equations underlying solitons, later called the Inverse Scattering Transform (IST), which has had a profound influence on both pure and applied mathematics. Until that time, nonlinear partial differential equations were thought to be essentially unsolvable.
Professor Kruskal's passion for research was legendary. Colleagues who worked with him understood that his day often began in the afternoon and ended when most people were having breakfast. Almost invariably, his research did not end with the proof, but continued until the subject was clarified to his complete satisfaction.
In later years, Professor Kruskal devoted himself to the study of surreal numbers, while continuing to work on nonlinear partial differential equations. He is also known among magicians for his invention of a card trick called the "Kruskal Count." Over the years, Professor Kruskal mentored generations of young mathematicians, and he continued teaching and publishing until the end of his life.
Professor Kruskal came from a family of mathematical siblings. His older brother, William Kruskal, was a statistician, best known to the public for the Kruskal-Wallis test, which is part of every major statistical computation system. His younger brother, Joseph Kruskal, is well known for Kruskal's Algorithm in computer science, the Kruskal Tree Theorem on well-quasi-orderings, and the formulation of Multidimensional Scaling.
Martin Kruskal is survived by his wife of 56 years, Laura Kruskal; three children, Karen, Kerry and Clyde; and five grandchildren.
Samuel L Greitzer (1905-1988)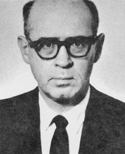 For fifteen years, competitors and mathematicians interested in high-level compteitions found it near-impossible to think of the prestigious USA Mathematical Olympiad without having in mind Dr Samuel L Greitzer, founding chairman of the committee in charge of the USAMO. Even the abbreviation USAMO centred on his name Sam, as his friends and admirers called him. Throughout his tenure and for years afterwards (through the journal Arbelos, which he prepared more or less single-handedly). Sam's concern with the mathematical well-being of highly talented students was similarly centralized. Only death could terminate his devotion, on February 22, 1988, at age 82.
Sam Greitzer emigrated to the United States from Russia in 1906, graduated from the City College of New York in 1927, and earned his PhD from Yeshiva University some years later. For over 25 years he was teaching at the secondary level, and then at Yeshiva University, the Polytechnic Institute of Brooklyn, Columbia University and Rutgers University. He published numerous pedagogical and research articles as well as several books, of which Geometry Revisited (co-authored with Coxeter) and International Mathematical Olympiads 1959-1977 are probably the best known in competition circles. He was the leader of the US team to the International Mathematical Olympiads during the first ten years of US participation, and took part in training the teams prior to the IMOs. He traveled extensively to help other countries with their efforts also, and he was well known in Australia, in Europe and South America as well.
The initial impetus for starting the USAMO was due to Professor Emeritus Nura Turner, whose intense work with the participants of this competition is still in progress. Sam fully recognized the importance of the USAMO, and soon became its most ardent supporter. His expectations from the students were high, his leadership of the committee was firm, and his administration of the competition was flawless. So it is far from co-incidental that SAM's name and guiding spirit will remain central to the USAMO as long as this superb competion is in existence.
G Berzsenyi and W Mientka
1988
This obituary was published in Mathematics Competitions, 1, 1, 1988.